Author: Laramie McClurg, Land Specialist from Summit Realty Group
Outdoors lovers who invest in tracts of land for hunting, fishing and communing with nature can increase their personal pleasure by making improvements such as dirt roads, boat docks, and DIY cabins. These projects generally require only a minimum investment on the part of the landowner but could pay significant dividends in a real estate transaction.
In all likelihood, the ROI you get from a DIY cabin can put real dollars in your pocket as well as a priceless land use experience. If you have the tools and temerity to build a viable hunting or fishing cabin on your land, there are an abundance of high-quality cabin kits that can streamline your workload.
Popular DIY Cabin Kit And Tiny Homes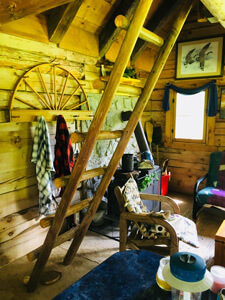 Considering this will be a DIY project unlikely to be used full-time, cost and labor will be at a premium. These are some of the popular DIY cabin kits on the market.
Coventry Log Homes offers a 192-square-foot chalet style design that is reasonably priced called the Getaway. It includes an open floor plan, bunk beds, and a loft. It's a style of cabin found at many campgrounds.

Conestago Log Cabin Homes offers several DIY kits under 200 square feet. These include the Getaway and Aspen at 195 square feet. Each design has a private bath and comfortably sleeps up to 6 people. The company also offers a 169-square-foot, one-room Pioneer design.
Another direction that outdoors lovers can take is to embrace the tiny home trend. There are many eye-catching products on the market today that are likely to improve the use and value of your property.
Arched Cabins offers a DIY kit to assemble a simple 12X32, 384-square-foot product that requires only a semi-skilled person to erect. The outfit has several simple designs and larger tiny homes that are inexpensive.

Shelter in a Day is an outfit that offers minimalist kits that are geared for warmer climates and utilize recycled wood materials. These are more snap-together DIY cabins that do not necessarily require tools, electricity or construction skills. They can be perfect for a deep-woods hunting shelter.
DIY Cabins Add Value

Putting up a DIY cabin is not likely to double your property value. On the other hand, it may double your enjoyment of the land. In 2003 my family built this cabin using Pines that my father planted with my grandpa 40 years ago. We use the cabin frequently during hunting season and has added to our enjoyment of our property tremendously.
But beyond personal enjoyment, having DIY cabins, tiny homes and other viable overnight structures improves your ability to generate income from potential users. Whether these are deer hunters, anglers or off-season campers, a DIY cabin can generate enough revenue to pay for itself and more.