Author: Al Wisnefske, Land Specialist
When outdoors lovers buy a tract of land for hunting and recreational use, ROI doesn't generally top the list of concerns. But offsetting the purchase price and annual property taxes through a little creative thinking can make land use even more enjoyable.
Veteran hunters and outdoors lovers that invest in undeveloped property often tap into revenue streams that don't necessarily impact the quality of deer and other populations. Keep in mind, that untouched lands have an innate natural value that property owners can effectively leverage while maintaining the pristine landscape. These are two of the common ways that hunters and other outdoors-oriented folks offset costs.
Leasing Land For Crops
There are a variety of different types of farmers who are willing to lease untamed land. Among the simplest deals a property owner can make is to negotiate with a dairy farmer to harvest the hay of your open fields.
Although hay does not necessarily yield the same level of profits that some cultivated crops might, it is a non-invasive way to earn revenue while enriching the land for robust deer herds and wildlife. Making a deal for hay baling may not swell your retirement account, but it could pay the property taxes.
If you are willing to work with crop farmers, corn is generally considered solid in terms of revenue and minimal impact. This can be particularly comfortable for hunters if the crop is intended for livestock feed and leans toward organic processes.
Crop leases can be seamless ways to raise revenue when they are consistent with your land enjoyment purposes. That's because planting and harvesting generally occur on the off-hunting season.
Off-Season Rentals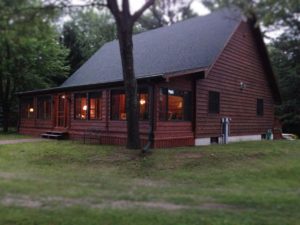 Living in a rural area is a vastly different experience from urban life. And people who grind out a living in cities often yearn to experience the great outdoors. This scenario presents an opportunity for landowners.
There are a few ways to approach off-hunting season recreation rentals. One way is to erect cabins and rent them out during the summer. Cabins generally rent well and earn solid ROI, particularly if your property has an accessible river, stream or lake. Weekend campers are generally minimally invasive and can more than off-set property taxes. But the big upside to recreational rentals is that they usually occur long after hunting season ends.
If you are thinking about buying a tract of land for hunting and personal outdoors purposes, do the math on these and other ways to offset the purchase price and taxes.