Natural Resources Education and Restoration
Flyways Waterfowl Experience Directors Restore Wetlands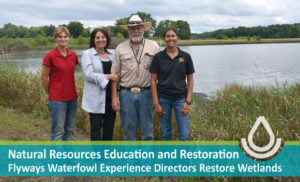 In 1999, Craig and Nichol Swenson, of Columbia County, Wis. bought property in Baraboo. They are also Directors of the Flyways Waterfowl Experience open to the public on Highway 136 south of Baraboo. The Swenson property was enrolled in the U.S. Department of Agriculture, Natural Resources Conservation Service (NRCS) Wetland Reserve Program (WRP) in 1998, but restoration work had yet to start when they acquired the property. The Swensons were excited to restore their acres and actively manage their land through WRP. Craig and Nichol own 23 acres of the WRP and three other neighbors own the rest of the 80-acre easement.
The importance of conservation is something Craig learned really early in life. "I grew up in McFarland, Wis., and we farmed a bit; you learn what conservation is all about. We've hunted, fished and trapped our whole lives too. If you don't consider conservation, you won't have clean water, animals and our other important natural resources," said Craig. Nichol has a different background story concerning what conservation means to her. She grew up on a barrier island in South Jersey, which fueled her interest in soil conservation. Nichol explains, "I see conservation from a different perspective, an ecological perspective. That's why we started the Flyways Waterfowl Experience, to bring kids in to talk about the importance of these things. We strive to teach why we need to respect the land so it's around for future generations." Nichol and Craig can teach first-hand, the importance of active conservation and land management at their Experience, because they are stewards of the land they own.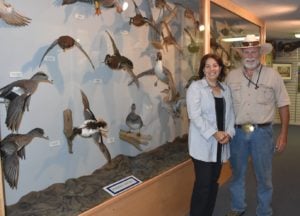 WRP, now known as Wetland Reserve Easements, is a voluntary opportunity to restore and protect wetlands on private property with the help of NRCS. Landowners, like the Swensons, receive technical and financial assistance to restore wetlands that have been drained for agriculture. The Swenson land was previously conventionally farmed and corn was always grown. The erosion was vast, flooding was a constant concern and something needed to be done. Craig and Nichol worked with NRCS and other partners to fill two drainage ditches and install an overflow structure on their easement property. "In 2001, the overflow structure was completed and wetland water could be let out efficiently, as needed," explained Craig.
Since the successful restoration, the landowners are able to view many diverse species every day. "We see so many great blue herons and egrets walking around the wetland; we've seen a huge increase in wildlife species since the restoration," added Craig. "We've seen a lot of monarchs all over the prairie acres and we encourage milkweed too." Tally Hamilton, Farm Bill Biologist in partnership with NRCS and Pheasants Forever adds, "The Swensons have many pollinator friendly plants in their prairie which helps bring in many beneficial insects and provides nesting cover for wildlife." The Swensons utilized state resources to initially seed the grasslands surrounding the wetland restoration with native, pollinator-friendly, grasses and forbs. "At the WRP easement outlet, now going into the Baraboo River, the water clarity is very clear and without sediment due to all the plantings," explained Craig. The Swensons get many duck species on the property that roost there, including wood ducks in the fall. They especially love seeing the ducks because of their interest from the Waterfowl Experience. "It's also an oasis for geese, pelicans, otters, beavers, and more," said Craig. "Last year, in the fall, we had 500 pelicans roosting in our area. We see so many eagles and ospreys out there also," added Nichol. The Swensons noted the abundance of wildlife has really improved in the grasslands acres also. "My brother Richard and I have 45 acres combined in prairie; we see deer, turkeys, rabbits, snakes, and a tremendous amount of frogs too," said Craig. The Swensons also complete active burning and mowing practices; maintenance done by them-prairie and help rid it of invasive species. Active weed management and mowing on the property has been crucial in battling the wild parsnip, which is spreading rapidly across Wisconsin. Since the WRP restoration, the Swensons have burned the property five times and have plans to continue the practice in the future. They are also taking measures to control invasive carp in the marsh. "When the marsh fills up two days after a 3-inch or more rainfall, the largest issue currently deal with is controlling the carp that come in from the river and root up all the vegetation. With the overflow structure in place, we can draw the water down in the winter to deal with some of the carp," said Craig.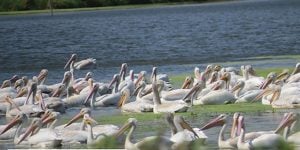 In 2012, with interest in education and conservation of lands, the couple opened the Experience. "I wanted to do something that was going to be meaningful. Natural resources education is so important," said Nichol. The Experience houses world class exhibits and interactive displays, a duck blind theatre, waterfowl art and galleries, decoys, duck calls, a virtual laser arcade, and much more. "I wanted to teach about the importance of natural resources history and the duck stamp. It's a story that needs to be told, many people don't know about. Ninety eight cents of every dollar that is used to buy duck stamps at the post office goes back into habitat conservation. That's what is used to pay for the resources to develop things like waterfowl production areas and national wildlife refuges," said Nichol. "We need to have educational places, like the Experience, where the general public can learn the importance of our natural resources." The Flyways Waterfowl Experience gets many visitors of all ages and welcomes schools and groups. "We also have an upstairs classroom for meetings, school groups and events," said Nichol. The Swensons are ready to teach students from pre-K, up to college level, and even host international students, accommodating the needs of different individual groups. "These youth are the policy makers of the future and they need to be taught the importance of conservation and managing our natural resources in a way that is sustainable."
Nichol is proud of her educational work at the Experience and she feels it's a success if she is able to impact even one child's life through it. "We bring in the National Duck Stamp Art Exhibit and encourage area teachers to bring their students in to learn about the program. In fact, the U.S. Fish and Wildlife National Junior Duck Stamp Art Exhibit will be at the Flyways Waterfowl Experience for all to see the first place winners of every state, and 15 of the adult entries from various states," added Nichol. The national exhibit will be displayed for two weeks, September 19‒October 3, 2017. Plan your visit and find out more information about hours visiting www.duckmuseum.com. "We're so excited to house this wonderful natural resources exhibit; we love getting people enthusiastic about it," added Nichol.
The Swensons look forward to enjoying their land and doing active management to keep it thriving. They also look forward to continue to educate the public that visit the Flyways Waterfowl Experience. "Our goal is to bring in more classes through building partnerships with local schools and organizations," said Nichol. Twyla Kite, NRCS Columbia County District Conservationist, adds "It's been a pleasure partnering with the Swensons; they have an excellent conservation land ethic, are doing active management, and promoting natural resources and habitats through their flyways Waterfowl Experience. We look forward to continuing our partnership through their WRP."