Author: Bob Clyde, UC Land Specialist
When it comes to selling hunting land or vacant land, a little preparation goes a long way. Buyers are far more likely to purchase your land if they have an easy time evaluating it and determining how they'll be able to use it. It is critical that you get your land ready for these evaluations, which you can do by:
Opening Up Access Points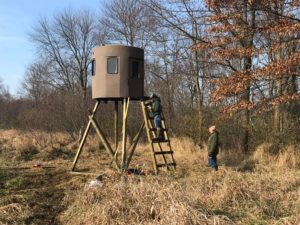 One of the first questions prospective buyers will ask is how will be able to access the property? In general, the easier it is to access from local roads, the more valuable it will appear to buyers. So before you begin showing it off, you need to clearly identify all parts of the property that provide road access.  Clear any obstacles or foliage that has gathered there so buyers have no trouble using them. Go one step further and make sure the entrances to the property are starting points to the trail system.  At least one of the entrances should have a sizable clearing to be visualized as a build site or camp site.
Strategically Cleaning the Space
Buyers will be more interested in a clean property, so you should remove any debris, decaying matter, broken structures, and overgrown foliage that might make your land look less than desirable. At the same time, you should avoid removing things like tracks, droppings, scrapes, and rubs which help buyers identify the presence of game.  Make your land too clean and it will look like there aren't any animals there— hardly something you want hunters to think! Ideal properties are well mixed with both young "thick" woods and mature "clean" woods.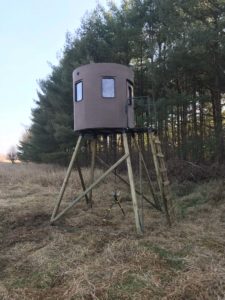 Improving Utilities
Utilities are a major selling point for hunting properties.  The vast majority of land buyers want a buildable site on the property.  If you have them in place, it's important to make sure they are easy to identify and in good condition. If buyers can't easily see the utilities, they'll have a hard time remembering they're there, making them less likely to buy the land. If utilities are not on the property make sure buyers know they are at the road or very close by.  Call your utility providers to determine the cost of installment, buyers will ask what the approximate cost is.
Marking Boundaries
Buyers need to know exactly where the boundaries of your land are.  They need to have a clear sense of what they're buying. Mark corner posts and fence lines with orange survey tape.  If you do not have a survey, consider hiring a surveyor to come and mark the corners of the property for you.  Replace any signs or other markings that have fallen down or become damaged.  Buyers are far less likely to request a survey if all of the corners and fence lines are properly marked.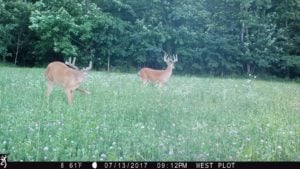 Run Trail Cameras:
Most buyers are purchasing vacant land for one reason, to hunt!  Their primary concern is, are the animals here? Run several trail cameras the year before and the year you sell.  Digital pictures of current and past trophies are a sure-fire way to get buyers excited about your property. The bigger the deer you can show, the better the purchase price will be.

Go TurnKey!
Properties that sell the fastest and for the best price have everything in place and are ready to hunt immediately after closing.  If you want top dollar for your property, you need to make it a top dollar property. Clear trails, plant food plots, dig water holes, plant fruit trees, build or install tower blinds, gather inventory of your deer, mark boundaries, and install utilities.  Spending time and money in these areas will greatly reward you when the offer comes in. Having all of these elements also gives you the upper hand when negotiating a purchase price as your property will stand above the rest.
For more information on buying and selling hunting land, contact UC Hunting Properties today.