Author: Dexter Keuss
Topographical maps have been used for a very long time. They are strategic in the operations of military advisors, ancient traders, and mining operations. With the vast abundance of mapping programs readily available on the internet, landowners, hunters, and outdoorsman use topographical maps to their advantage. Trophy Properties and Auction Land Specialists and Consultants use topographical maps in buying property, scouting stand locations, and picking a property with topographical features their clients desire.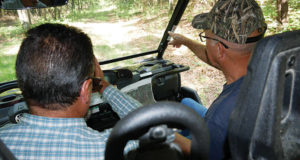 Anytime a client of mine is interested in a potential farm, wants to list a property, or asks me for advice on the layout of a farm, I always pull up a topographical map before giving my recommendations. When you can point out features like military crests, saddles, creek bottoms, elevator ridges, old mining roads, bluffs and lakes, it gives you a great starting point before you get you boots on for a better look at the ground. When you know about topographical features and areas, you can pick better locations for home sites, food plots, ponds and lakes, camping areas, and the trails to get you around a property. Knowing the terrain can help a client find bedding areas, buck rubs and even shed antlers as well!
A – Saddle; good place to see cruising bucks
B – Military Point; buck beds
C – Elevator Ridge; easy spot for wildlife to move from the bottoms to the ridge
D – Creek Confluence; good spot to set up a campsite
E – Military Point; strategic position with predominate west wind
F – Saddle; good ability for wildlife to move ridge to ridge and valley to valley
Understanding your property is one of the most important objectives you can do as a buyer or seller. Having someone who can help you through the process is what I am here to do. If you need help finding or selling a property please feel free to reach out. – Dexter Keuss Email – dkeuss@trophypa.com Cell 314.305.9037